---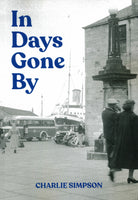 In Days Gone By
In a series of 20 essays Charlie Simpson tells a wide range of stories, from salt herrings and wartime sinkings to the development of the islands' infrastructure and services.
Many of the powerful influences in the shaping of late 19th and 20th century Shetland are discussed. The making of much of modern Shetland is sketched out, by way of contrast with the practices of previous generations, such as the way we shop, and how our maritime lifesaving organisations have adopted new technologies.
The variety of topics, published over a 20-year period in The Shetland Times, come together in this volume to explain many facets of the lifestyle we enjoy today.
Charlie Simpson

Paperback
276 pages