---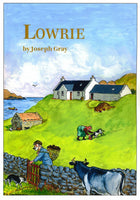 Lowrie
Since "Lowrie" went to print in the 1950s a whole generation of Shetlanders has been deprived of the wonderful brand of humour which Joseph found in life as seen through the eyes of a Shetland crofter.
Most of these stories were originally published in The Shetland Times and this volume is the result of several requests for a reprint.
This edition also includes three new Lowrie tales and verse made available by the family of the late Joseph Gray.
Joseph Gray
paperback
159 pages