---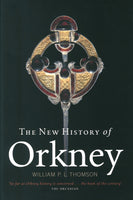 The New History of Orkney
This new edition of William Thomson's acclaimed book contains a wealth of new material. 
Orkney existed as a separate nation for much of its history, with its own language, culture and institutions. Its prehistoric inhabitants produced monuments which are unmatched anywhere in Europe.  500 years ago it lost its political independence.
This is an enthralling history shedding new light on the Picts, the Vikings, medieval Orkney, the Reformation and the Stewart earldom, as well as many aspects of more recent centuries.
Paperback, 529pp,